Internationale Tagung des interdisziplinären Netzwerks IMAGINES, das sich mit der Rezeption der Antike in den "visual and performing arts" auseinandersetzt – aus dem Ankündigungstext der Veranstalter:
"Mediterranean through the kaleidoscopic gaze of artists who from the Renaissance to the 21st century have been inspired and fascinated by the sea, its myths and history. The view of those who imagined and recreated the past of the sea has largely contributed to the shaping and transmission of modern cultures that, close or not to its shores, are rooted and embedded in Mediterranean traditions. The conference will look at the representation in the performing and visual arts of ancient myths, fiction and history, and will pay particular attention to the theme of sea travel and travellers."
Mit Beiträgen u.a. von
– Cecilia Ricci & Carlo Pauer Modesti (Univ. Degli Studi del Molise):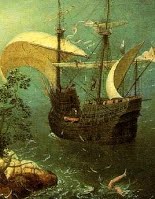 Roma e il mare. Il rapporto tra Romani e Mediterraneo nei film di argomento storico
– Federico Ugolini (King's College London):
The Adriatic Grand Tour Revisited: Roman Ports and Antiquarian Tradition
 – Leonor Santa Bárbara (Univ. Nova de Lisboa):
Ulisses e os Lusíadas
– Marta García-Morcillo (Univ. Roehampton):
The City of Carthage and the Sea in Western Imagination
1. bis 4. Oktober 2014
Organisation: Dr. Adriana Nogueira (Universidade do Algarve), Dr. Sandra Boto (CIAC, Universidade do Algarve), Dr. Isa Mestre (CIAC, Universidade do Algarve), Dr. Marta García Morcillo (University of Roehampton, London)
Veranstaltungsort: Universidade do Algarve, Campus da Penha, 8005-139 Faro – Portugal
Weitere Informationen und Programm hier!