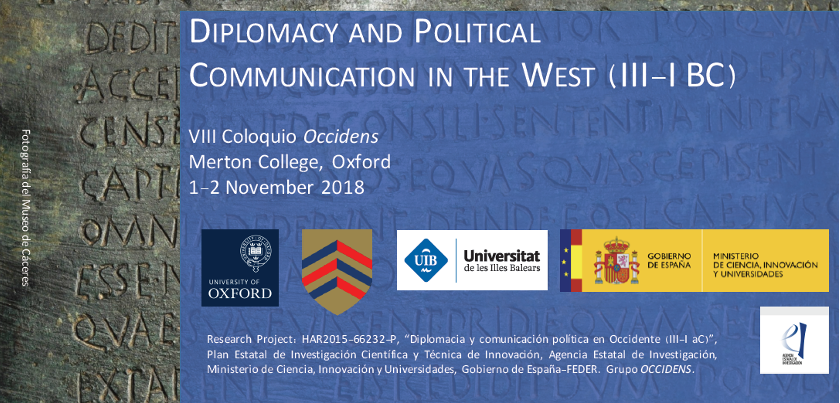 VIII Coloquio Occidens. Con ponencias (entre otras) de
– Lisa Eberle (Eberhard Karls Universität Tübingen), Western Interpretations of Roman Imperialism? Appian on Resistance in Spain (and North Africa)
– Enrique García Riaza (Universitat de les Illes Balears), Political Summits Outside Rome: Aims, Practices and Limits
– Pierre Sanchez (Université de Genève), Roman imperatores as Treaty-makers in the West: The New Coins from Hispania
– Eduardo Sánchez Moreno / Tomás Aguilera Durán
(Universidad Autónoma de Madrid), Lusitanians Facing Rome (151-150 BC): An Unconditional Surrender to the Praetor Ser. Sulpicius Galba?
– Laurent Lamoine (Université Clermont Auvergne), La fin de la Guerre des Gaules sous Auguste?
del 1 al 2 de noviembre de 2018
Organisación: Enrique García Riaza (Universitat de les Illes Balears) und Jonathan Prag (Merton College, Oxford) / Proyecto HAR2015-66232: "Diplomacia y comunicación política en Occidente, III-I a. C.)" HAR2011-27782
Lugar: Merton College, Oxford
Programa: Occidens VIII, 11.2018